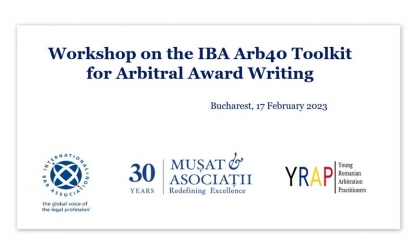 Mușat & Asociații will host the International Bar Association's upcoming workshop "IBA Arb40 Toolkit for Arbitral Award Writing" organised with the support of the Young Romanian Arbitration Practitioners (YRAP). ...

With 15 years' experience in disputes, Luiza's practice focuses on tax, employment disputes and environmental disputes. She has extensive experience in advising in tax audits from inception, through ...

MPR|Partners assisted V-Ridium in the recent acquisition of two photovoltaic parks with a combined production capacity of 6 MWp from two separate privately owned companies.The multimillion-euro transa ...

Reff & Associates | Deloitte Legal has obtained from the High Court of Cassation and Justice (HCCJ) the annulment of approximately RON 10 million interest rates imposed by the national authorities to ...

Findings from the latest CMS Emerging Europe M&A, published today in cooperation with EMIS, show that M&A activity across Emerging Europe rose by 5.6% in volume to 1,229 deals compared to ...

Musat & Asociatii advised HAVI Logistics SRL, one of the major players in the logistics services sector, on the sale of its distribution centre (buildable land and warehouse/offices), located in Bucha ...

Recruiting staff in Romania may seem daunting to employers, specifically to those foreign- ...

Litigation activity has intensified since 2020, with a two-thirds of companies (64%) notin ...

Schoenherr și Asociații SCA advised Nofar Energy on the acquisition of a 73 MW solar pho ...

As of 14 January 2023, requests can be made with the Romanian State Office for Inventions ...

On 10 January 2023, Financial Supervisory Authority (FSA) Regulation no. 18/2022 amending ...

The Romanian Competition Council (RCC) and the National Authority on Public Procurement (A ...

After years of anticipation and waiting, 2023 appears to be the year in which crypto-asset ...
Citeste pe SeeNews Digital Network
BizBanker

BizLeader

SeeNews

in curand...